For best experience watch video's fullscreen (2 of 170).
Port Authority Screen – Central station Rotterdam
This is the biggest video project so far. For six steady months a small crew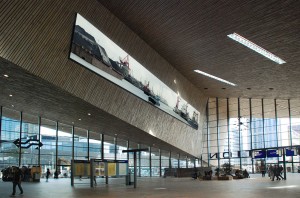 has been making video's for the large screen located at the new Rotterdam
central station. the project was directed by Jasper Wessels.
A very large portion of the project was filmed and edited By Pieter.
The different movies are eclectic portraits that match the time of day and season.
The speed of editing is adjusted to the rhythm of human breathing, so that the image
conveys a natural, friendly atmosphere. This way, the silent movies get a slow and
harmonic cadence. The screen becomes a beautiful, quiet constant in the station, a
place that is subject to change all day long by the comings and goings of travelers
and commuters .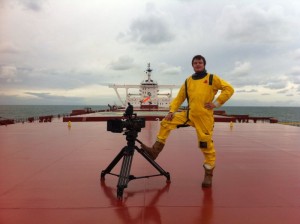 Each film begins with an overview, which are wide panoramic images of the port.
Then we get closer on an activity or an area depending on the theme of the film.
The portraits of people working in the port finally give the port a face and a
personality. The size and the abstraction of the wide port are thus reduced to a
human scale. The films vary from themes like Customs, Dry Bulk, Trains, Cranes,
Tugs, Pilots,Recreation, Oil, Containers, and Nature to name a few.
The screen is unique in size and aspect ratio ( 40 meters wide , 4.5 meters high)
with a resolution of 3968 pixels wide and a frame rate of 50fps. To produce the
films for this format and ratio we choose to work with the Sony F55, and shoot
4K in S-log at 50fps. The F55 also was the best option for a manageable
post-production workflow. These frame rates and resolution produce huge amounts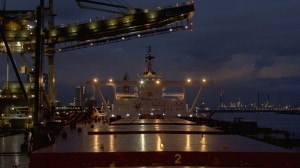 of data, because we shoot lots and lots of hours of footage. With the 170 films
we create for the screen, we will deliver about 9 hours of finished film. With
the countless hours of footage we shoot in the harbor, we estimate we'll produce
30 TB of footage, which all have to be managed and processed.
Produced by:
STUDIO BILDER
Directed by:
Jasper Wessels
Filmed by:
Pieter van den Berg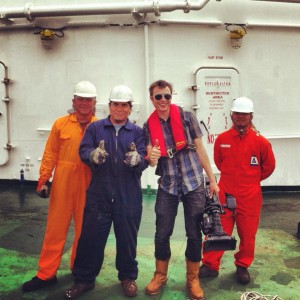 Edited by:
Pieter van den Berg
more info >
Port of Rotterdam website